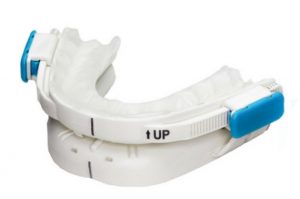 Prefabricated, Adjustable, Thermoplastic
BluePro possesses 3 essential features for a mandibular repositioning device (MRD) to be effective
RETENTIVE
The durable impression created in BluePro's mentholated thermoplastic lining ensures a retentive force of 26 Newtons. This has been shown to be sufficient to resist jaw opening during sleep, ensuring the device remains effective throughout the night.BluePro is a professional treatment option used exclusively under the supervision of health professionals. It provides an immediate, effective and affordable solution for the treatment of snoring and obstructive sleep apnea.

ADJUSTABLE
BluePro's unique millimetric titration system ensures precision in the process of mandibular advancement.This adjustment is controlled by a clickstop system that allows the two splints to slide over each other and lock at the required level of advancement. An innovative SMART lock allows simple millimetric adjustment and is suitable for operation by the patient.
TOLERABLE
The assembled device forms a monobloc that maintains mouth closure while allowing air circulation through the mouth. The vertical opening allows oral respiration if there is nasal obstruction.