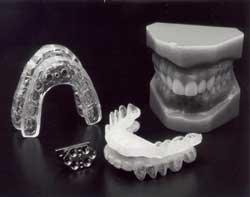 The Silencer Professional is a laboratory fabricated fully adjustable oral appliance for the treatment of sleep apnea and snoring. The appliance features a titanium precision attachment, which controls the anatomical settings of the appliance. It is capable of anteroposterior adjustment as well as vertical adjustment through a range of 10mm, in both dimensions.
The design of the precision attachment also allows lateral movement of the mandible which respects and protects the TMJ. The titanium Halstrom Hinge? is made of implant grade titanium and carries a five-year warranty. There are three component materials in the Silencer.  The body of the appliance is constructed of elastamer,a pliable material which offers the patient a much greater degree of comfort than harder acrylic materials.
For additional support, to the dentition as well as the temporomandibular joint, hard acrylic "bite pads" are placed in the molar regions. A commercially pure titanium articulating component grants the appliance the many adjustment characteristics that make the Silencer unique – kind to the tissues, the teeth, and the temporomandibular joint.