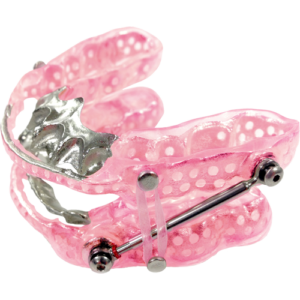 The SomnoDent Suad Ultra takes Herbst oral device design into another dimension by achieving phenomenal airflow volume. By combining design characteristics of the SomnoDent SUAD with the benefits of a morning repositioner, the SomnoDent SUAD Ultra removes all acrylic from the incisal edge, incorporates a thin lingual apron for support, and contours the posterior lingual flanges to mimic the natural dentition; thereby, greatly increasing tongue space. The SUAD Ultra gives patients the ability to perform the same isometric exercises as they would with a morning repositioner, potentially reducing the risk of mandibular posturing forward.
Mesh component added to the labial surface – complete arch is totally encapsulated by casted substructure to ensure that the dentition will not move.
Supported by years of medical research
Non-restrictive in movement, allowing the patient to fully open and close their mouth, drink water, speak clearly, yawn, and take medication while wearing their appliance
Unlimited protrusive advancement does not have fins that limit lateral movement and does not lock the upper and lower jaw together
2-year product warranty against manufacturing defects, 3-year limited warranty (See FAQs below for more details)
FDA 510(k) cleared, Class II Medical Devices
Effective: The SomnoDent SUAD Ultra has been clinically validated to treat patients with snoring and obstructive sleep apnea. It is also proven to be safe and effective.
 Increased Tongue Space: Acrylic removed from the incisal edge and contoured posterior lingual flanges to mimic natural dentition
 Increased Airflow: Initial reports have shown that the SomnoDent Ultra has a 14.6% increase in airflow volume when compared to the SomnoDent SUAD